Front: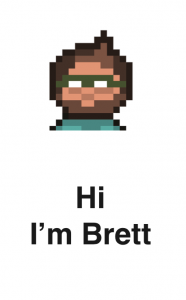 Back:
I really like the pixel caricature I use as my avatar for my email and other sites, so I wanted to include that with a friendly greeting on the front. I wanted to use a vertical format, but knew that my long name (and email, and website…) would pose a problem. I decided to solve it in a couple ways; first, I put everything at an angle to keep the font size large, and make it a bit more visually interesting. I also combined my name, website address and email address instead of writing it out 3 times. That did, however, introduce a bit of confusion with the twitter handle, so I added the twitter bird to make that more clear.
The "code + design" was an addition to remind others what it is that I do, or am interested in. I made a version without it as well. I'm trying to decide which I like better.
I wanted to keep it very clean and to the point, but I'll definitely make a few more versions before I finalize this.